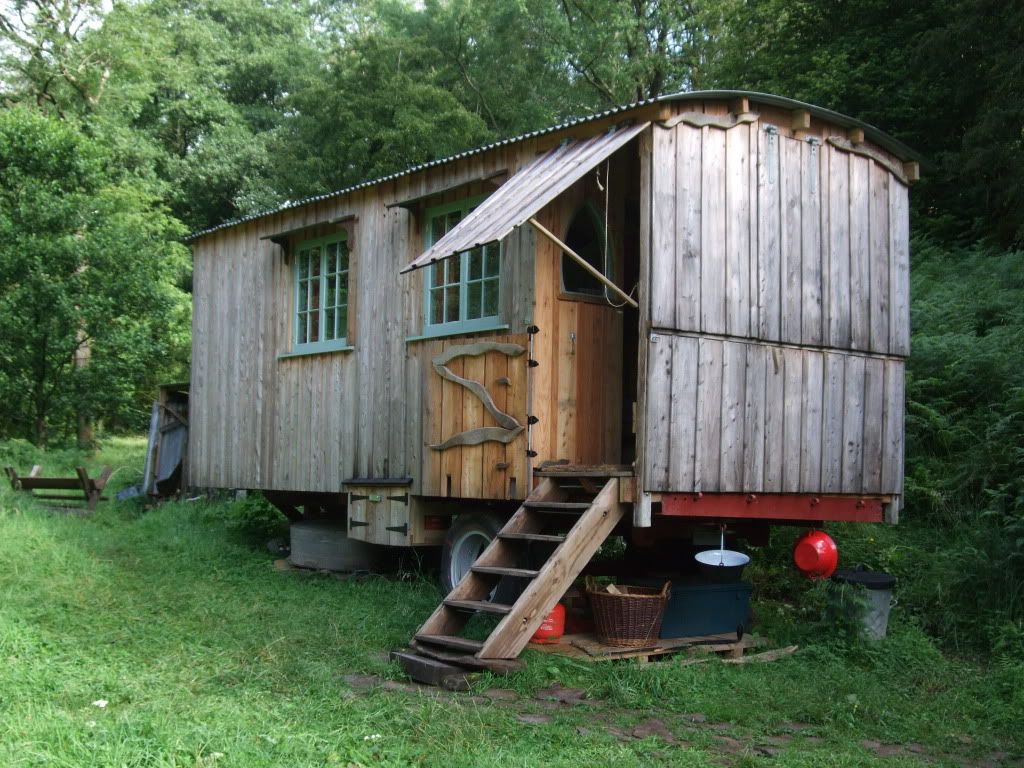 Wonderful wooden wagon, near Capel-y-ffin
Arriving at a service station on the M4 after a weekend staying in a wooden wagon in the wilds of Wales was like being clubbed in the head with a bat labelled 'modern world'. I did not enjoy the experience. There were currents, not the watery kind that had carried us serenely down the River Wye, but of returning weekenders, swirling around an identikit cluster of shops containing Burger King, WHSmith (on the motorway? 'Thank god, darling. Let's stop here, I MUST get some ring binders before we get to your mother's') and the obligatory amusement arcade.
The weekend had been filled with delightful experiences and, removed from the National Grid and the reach of radioactive mobile phone transmitters, down in the glade accessible only by foot, we spent pleasant evenings reading by candlelight, drying wet boots on the wood burner, and skinning recently caught bears. You know you have had a wholesome weekend enjoying the great outdoors when all of your clothes smell of wood smoke. Either that or you are a serial arsonist 'up to his old tricks'.

Running on the Black Mountains

As life affirming experiences go, this ranks very highly. On Sunday morning, as dictated by my training schedule, I put on my running shoes and headed out into the unknown. There is a great joy in going for the first run or ride in a new place. A sense of imminent discovery that removes any feelings of duty or routine. The Black Mountains did not disappoint. My t-shirt and shorts felt very flimsy in the cool morning air but the sun was streaming down into the valley and, knowing my own body, I was sure that in no time at all I would be generating as much heat as a geo-thermal vent and sweating prodigiously.

Up and out of the glade by the stream where our wagon sat, I ran. Across a steeply sloping field, through dew covered grass watching rabbits scatter at my approach, I jumped the gate onto the track, and followed the path upwards where we had ridden when pony trekking the day before. The way was muddy, with large puddles and protruding rocks, causing me to watch my step carefully, keeping me present and preventing me from sinking too deep into reverie of the natural beauty all around. Across another gate and I was in to Brecon Beacons National Park. Running along one side of a steep narrow valley, carpeted with battered bracken, I could hear nothing but the rushing of the stream and my own heart pounding as I gulped the cool air and climbed the treacherous, twisting path upwards. Once or twice, as I splashed through the deep gooey patches, cool mud coating my calves, I even cackled manically to myself with joy. It's good to be alive, I thought, dancing a merry waltz with a giant, buxom, cliché. Embrace it and enjoy it to the full because our time is short. Live for now and whatever it is, get it done. Anything is possible.

I was motivated to sign up for the London Triathlon before mum died, as a way to transmute some of the sadness into something positive and raise money for a fantastic cause. Her death has strengthened my resolve and given me focus like I have never known. I wouldn't recommend loss as a desirable accompaniment to achieving your dreams, and there are many stages of emotion that different people experience at different times, but I am determined to give this triathlon the best of me and to make mum proud.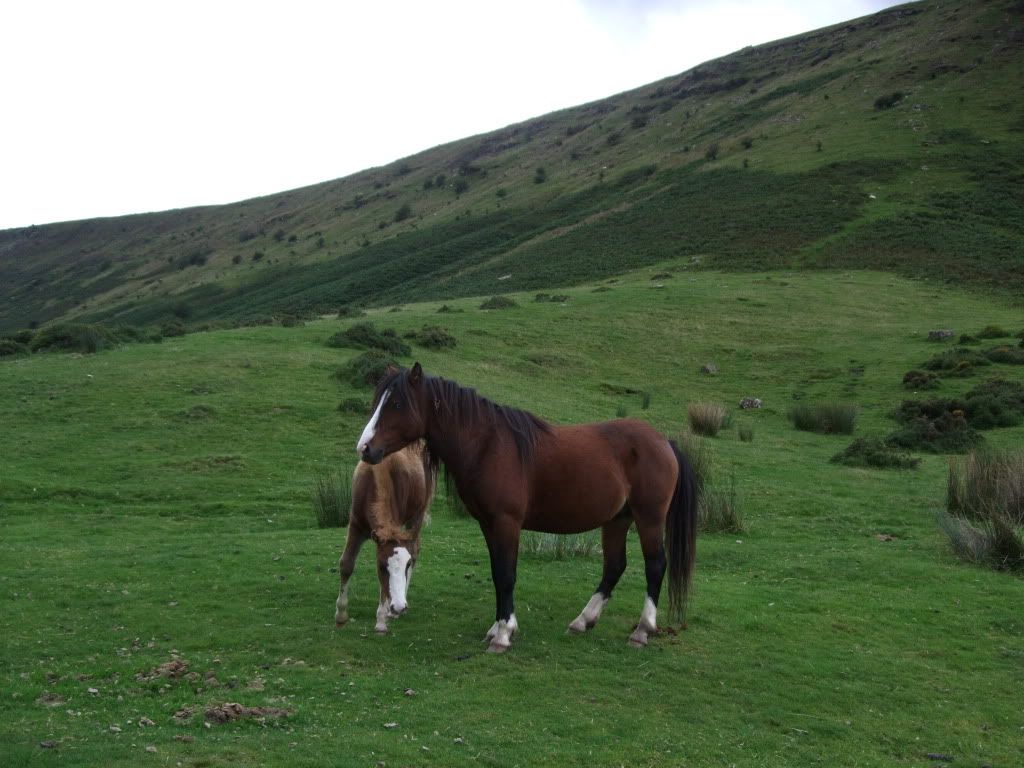 Wild pony and foal on the Black Mountains
Upwards, the winding track took me. Looking back I could see the lush valley falling away, below, the wild untamed parts of the National Park giving way to a patchwork quilt of farmland. Sheep ran ahead of me in mini-flocks, needing only to turn left or right off the path to escape the onrushing muddy freak, but determined to be unwittingly herded to pastures new. I imagined an angry farmer on a quad bike searching the hillside for his woolly beasts, only to find them running before me, as I staggered along behind with strings of saliva swinging from my mouth shouting, 'this is living!'
Wild ponies, a legacy of Roman occupation and less flighty than the sheep, paused in their grazing and watched me cautiously as I blundered on. As I thought how excellent it would be to come for a walk up this very path, even take a picnic, I ran out of the morning sun and into thick low cloud. Visibility dropped dramatically and I could see not more than 20 metres in front of me. I crossed a stream and as the track lead away from the water it merged with the grassy surrounds and became harder to follow. Rabbit holes and rocks lurked about, waiting to snap my ankle if I misplaced a step.
'This is how those mountain rescue shows start,' I thought to myself. 'Nobody knows where I am. I don't even know where I am. I don't have a phone and I am inadequately dressed for exposure at 600m up a Welsh mountain.'
Best not break anything then, I decided, and plunged on. Running through the whiteness I had the feeling of being in a dream, the only human left, floating across a wild landscape in a cloudy womb. A remarkable experience and one sadly not equalled by running past kebab shops on Kingsland Road. The fading track turned north along a ridge and the wind whipping up from the unseen depths brought me back to reality and, after 21 minutes exactly, it was time to turn back.
Out of the window of my room at the hospital in Abergavenny I have a great view of the mountains where I was running just the other day, and the wifi is good enough for me to update my blog from my bed, though the cast on my leg makes balancing the laptop a bit tricky.
That could have happened, but happily it didn't. I ran back to the wagon, feeling like one of the first men returning from a successful hunt, invigorated and alive. I showered next to the stream in icy water poured from a watering can, which was suspended from a moss-covered tree with a rope. More of this, please.
See the route of my run in the Black Mountains
here
Canoeing on the River Wye
The smile belies the terror
I have rafted down the Zambezi in Zambia and the White Nile in Uganda but it was with trepidation that I listened to the briefing from the instructor at Wye Valley Cano
es, before reluctantly accepting a paddle from him, while exchanging a worried look with my sister. We were expecting a pleasant day on a picturesque waterway and were not prepared to learn that a section of the river is known as 'the Rookie Butcher' or to hear phrases like 'body recovery' and 'impossible'.

As it turns out, the toughest part of the day was deciding which to eat first, the dried dates or the dried apple rings. And debating whether or not shouting loudly would encourage the herons to come closer.
We paddled our canoe ten miles from Glasbury (pronounced Glays-berry) to Whitney-on-wye and with my expert knowledge born of almost watching my sister drowned on a grade 5 rapid in Uganda, I sat at the back to steer and we (I) paddled languidly down-stream assisted by the strong current. I almost choked on a fruity snack when I heard my sister remark, while lying back in her seat, with her feet resting up on the gunnels, 'Oooh, our muscles are going to ache tomorrow'
Wetsuit Test in the River Wye
Swathed in neoprene, the wetsuit test
Feeling fit and strong after plenty of training I was looking forward to donning my new 2XU T:2 Team wetsuit (the most popular model of the season according to the man in Sigma Sport) and piling into the river for a test. We found an accessible spot near Hay-on-wye and, much to the bemusement of the canoeing day-trippers, I attempted to swim up river against the strong current. Oh dear. It was hard work and disheartening so I angled myself to compensate for the flow and swam widths instead. I stopped to remark to one gawping paddler, clearly confused by the sight of a fish-man waste deep in water that is perfectly good for floating on, 'I've lost my car keys', by way of an explanation. He kept on staring, while scratching his head, and then crashed into a bridge.
Since last Sunday I have swum twice more in my wetsuit and I am starting to get used to it. I think being comfortable with your equipment is key to avoiding a panic on the day. The sensation takes some getting used to; it is obviously very tight and puts pressure on the muscles. A good wetsuit shouldn't restrict movement of the arms but it feels like it is doing exactly that and the buoyancy of the neoprene causes you to float higher in the water. This should ultimately help you to swim faster but you have to get accustomed to the altered position. And damn and blast it, if I wasn't just 3 laps into a 4000m swim around Hampstead Ponds when I heard the call of nature. And not the kind that can be answered subtly in the water.
Sometimes, like when I am swimming for over an hour in cold, murky water, on a cold, rainy day, dressed like a superhero gimp, I wonder why I am doing this. I remember in an instant and it drives me on for the next 100 or 1000 metres. Few things in my life have meant as much to me as this triathlon does. It has become symbolic as an attempt to wrestle back some control from the inescapable reality that there is only one certainty in life, death, and it is coming to us all. My mum's body was taken over with disease and let her down so I want to train mine to run at its peak. Mum lost her battle against cancer but I am taking on this triathlon to win. Not in the sense of coming in first place, but by overcoming the challenge. This is my fight.
Next week sees me reach the peak of my training with 9 hours and 16 minutes of swimming, cycling and running to complete.
Olly
http://uk.virginmoneygiving.com/ollydavy